Mid-weight GORE-TEX® shell jacket for all-day riding in the rain, cut to fit over insulation layers but with Topo stretch panels to help the jacket move with you. This is serious equipment for your wettest, nastiest days on the bike, when anyone else would stay inside.
This jacket is made for those days when speed and light weight are sacrificed for the most effective barrier possible against the rain and cold outside. If you've never had a jacket like this, you've never experienced the feeling of going out only because you have to and then enjoying one of the most epic days ever. They went with a heavier-weight GORE-TEX® fabric for extra durability and because they gave this jacket a little more generous cut and don't want the fabric flapping around. But they still made it so that you can ride in an aggressive position, helped by stretch panels around the shoulders. They've added the same stretch panels around the wrists so that you can put it on and take it off over your Diluvio gloves, and they added stretch panels on the sides in case you load up your pockets. Even though this is an absolute extreme-conditions jacket, it can still fold up small enough to be stuffed in a jersey pocket—or, more likely, in a bag, because this jacket is a must on your next multiday adventure.

Features
3-layer mid-weight GORE-TEX® fabric for total rain protection.
Stretch panels in GORE-TEX® Topo fabric bring better fit in shoulders and stretch in wrist for easy on/off with gloves.
2 large rear pockets for easy access with gloved hands.
Long tail for splash protection.
Covered YKK® AquaGuard® zipper.
Zipper flap at neck for extra comfort.
Temperature range: 2°-16 °C.
Manufacturer weight: 236 g.

Technologies
YKK Zipper
The right balance between elegance and colour, strength and endurance. YKK Nylon coil zip fit the most difficult fabrics and delicate applications in footwear and sportswear.
Gore-Tex®
Gore-Tex® fabrics offer long-lasting, comfortable weather protection. The technology is based on an extremely thin membrane made of expanded polytetrafluoroethylene (ePTFE). Its pores are too small for rain to penetrate, yet big enough for perspiration to pass right through. Gore-Tex® products have a high waterproof rating (water column) and can withstand up to 28,000 mm of water pressure – more than monsoon rain. The membrane is bonded between an outer fabric and a high-performance lining. Depending on the construction, the result is either a 2-layer, 2.5-layer or 3-layer laminate. Gore-Tex® in a 3-layer construction offers a combination of enhanced durability and high breathability, while the 2-layer laminate provides lightweight weather protection.
MEN
S
M
L
XL
2XL
3XL

A

Chest (cm)
92
96
100
105
110
115

B

Waist (cm)
80
84
88
93
98
104
For the correct garment treatment, please follow the manufacturer's instructions.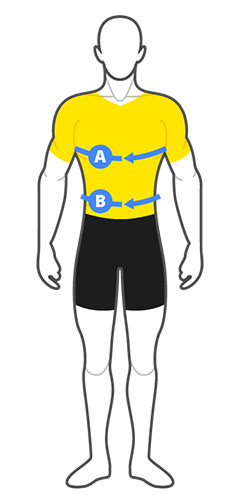 To be able to write a review you need to be logged in
To ask a question to other users you need to be logged in.