Castelli Giro d'Italia #Giro102 Race Pink jersey
#Giro102 - are you ready?
The official jersey for 2019, identical to those worn by the leaders of the Giro d'Italia classifications. It was designed to be lightweight and aerodynamic, with seams that follow the contours of the rider's body and ensure a perfect fit. Four different Sitip fabrics are expertly positioned on different parts of the body to optimize aerodynamics and breathability in the appropriate areas. The sleeves are laser cut for maximum comfort and aerodynamics. The jersey's zipper has a golden zipper pull that fades to pink, a tribute to the true Trofeo Senza Fine, which this year is also featured on the chest.

Features
Aero Race 6.0 Jersey fit and construction for Grand Tour winning aerodynamics.
Light weight Giro Aero front fabric is engineered to Castelli's specifications by Sitip.
Light and breathable Giro Infinito fabric on back with mesh side panels.
Castelli drop pocket back for perfect race fit.
Gold finish zipper pull as a tribute to the Trofeo Senza Fine.
Mesh silicone elastic waistband.
MEN
S
M
L
XL
2XL
3XL

A

Chest (cm)
92
96
100
105
110
115

B

Waist (cm)
80
84
88
93
98
104
For the correct garment treatment, please follow the manufacturer's instructions.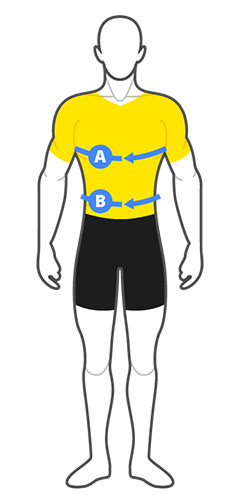 To be able to write a review you need to be logged in
Are you not registered on LordGun?
What are you waiting for, Sign up Now
Everyday we do our best to guarantee our customers:
Fast shipments
Product Warranty
After sales service
Competitive prices
Register
To ask a question to other users you need to be logged in.
Are you not registered on LordGun?
What are you waiting for, Sign up Now
Everyday we do our best to guarantee our customers:
Fast shipments
Product Warranty
After sales service
Competitive prices
Register