Sales
Castelli Perfetto Light SS jersey
Brand:
Castelli
You'll use it more than you can imagine
It was the pros who first asked for a Gabba that's not as hot as the Gabba but warmer than the Fawesome Vest. So we started from the Gabba and made the back in Nano Light fabric -- the same fabric as our Nano Flex tights but without the brushed fleece inside. This gives the piece a lot of breathability and keeps you from overheating inside. We further lightened it up by using a lighter weight of Windstopper® (a full 25% lighter than the one used on the Gabba) on the front.
You make think that this is filling a very small niche. But just try it. It can cover most of the conditions of the Gabba (except wet racing and very cold), yet it handles warmer temperatures better. And the fit is exceptional, which is one more reason you'll keep reaching for it.
The consensus of our Castelli test crew is that this piece doesn't fully replace the Gabba or Fawesome, but it's another arrow in your quiver that is ideally suited to cool temperatures, especially when it's dry or there's a risk of light rain.

Features
Gore Windstopper® 150 fabric on front, sleeves and yoke for lightweight wind protection
Nano Light fabric on the back sheds water but allows significant breathability
3 external rear pockets
Long tail with reflective trim
YKK® Vislon zipper for easy opening and closing

Technologies
Rosso Corsa
Our Rosso Corsa label is only applied to the highest-level products we make. Every thread and fiber, every curve and contour is obsessed about. Rosso Corsa represents a categorical breakthrough in cycling innovation and the meticulous craftsmanship you expect from Castelli's performance-enhancing apparel.
Windstopper®
This soft, 4-way stretch Windstopper® fabric is extremely lightweight and breathable.
Breathable outer and inner shell keeps the wind out.
Windstopper® technology makes it ideal for use in cool weather.
MEN
S
M
L
XL
2XL
3XL

A

Chest (cm)
92
96
100
105
110
115

B

Waist (cm)
80
84
88
93
98
104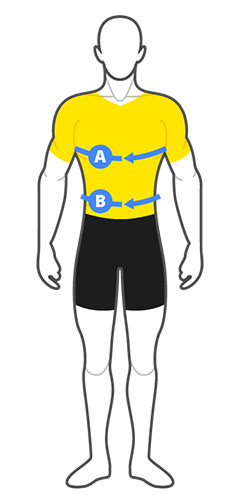 To be able to write a review you need to be logged in
Are you not registered on LordGun?
What are you waiting for, Sign up Now
Everyday we do our best to guarantee our customers:
Fast shipments
Product Warranty
After sales service
Competitive prices
Register
To ask a question to other users you need to be logged in.
Are you not registered on LordGun?
What are you waiting for, Sign up Now
Everyday we do our best to guarantee our customers:
Fast shipments
Product Warranty
After sales service
Competitive prices
Register