Castelli Trasparente V Limited Edition 2020
Trasparente V - a long-sleeved jersey for autumn rides
The idea behind the Trasparente jersey is to extend that transition period during the autumn days when you are about to change from a long-sleeved jersey to a jacket.
Castelli designed it very comfortably, with the freedom of movement of a thermal jersey, adding the two-way stretch Polartec® NeoShell® fabric at the front, which is both waterproof and windproof. This jersey keeps the wind out and keeps you warm on days when you would usually use a vest or light jacket. The back is made with the Nano Flex Xtra Dry fabric for warmth and water repellency. To increase the versatility of this garment, Castelli has created eye-catching reflective panels both at the front and back, adding a front pocket for keys and money. They also kept the lines simple so that it's your favourite jersey for cool days in the years to come.

Features
Thermal jersey with windproof front for mild to cool conditions.
Polartec® NeoShell® 4 way stretch fabric on front is windproof, water proof and highly breathable.
Nano Flex Xtra Dry back provides ventilation with effective water repellency.
Sleeves with 3/4 wind protection.
YKK® Vislon® zipper for easy opening and closing.
Front and rear reflective panels for visibility.
Front zippered pocket.
3 rear pockets.
Suitable for 10°-18°C / 50°-64°F temperatures.

Technologies
Polartec® NeoShell®
Polartec® NeoShell® is the world's most breathable waterproof fabric technology. For years the outerwear industry has prioritized excessively high waterproof ratings that sacrifice the breathable performance needed during physical activity. Neoshell® provides the strength and durability of a weather protective fabric, while still allowing dynamic air exchange and comfortable full range of motion.
Nano Flex
Exclusively engineered by Castelli. They took their thermal fleecy stretch Thermoflex fabric and coat it with millions of tiny nanofilaments to create the most water-repellent fabric finish ever. Drops of water stay as spherical balls on top of the fabric or bounce off the fabric without leaving a trace.
Rosso Corsa
Rosso Corsa label is only applied to the highest-level products Castelli makes. Every thread and fiber, every curve and contour is obsessed about. Rosso Corsa represents a categorical breakthrough in cycling innovation and the meticulous craftsmanship you expect from Castelli's performance-enhancing apparel.
MEN
S
M
L
XL
2XL
3XL

A

Chest (cm)
92
96
100
105
110
115

B

Waist (cm)
80
84
88
93
98
104
For the correct garment treatment, please follow the manufacturer's instructions.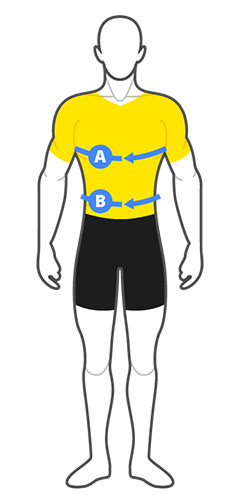 To be able to write a review you need to be logged in
Are you not registered on LordGun?
What are you waiting for, Sign up Now
Everyday we do our best to guarantee our customers:
Fast shipments
Product Warranty
After sales service
Competitive prices
Register
To ask a question to other users you need to be logged in.
Are you not registered on LordGun?
What are you waiting for, Sign up Now
Everyday we do our best to guarantee our customers:
Fast shipments
Product Warranty
After sales service
Competitive prices
Register