Poc Avip Ceramic LS jersey
Brand: Poc
The Ceramic jersey represents the next stage in the development of the Avip concept and has been designed to enhance protection, safety and training performance. The Avip Ceramic LS jersey provides enhanced rider protection through the inclusion of highly durable ceramic panelling in key areas on the sleeves and hips, and which is designed to reduce the consequences of an accident or fall, in particular the road rash which is a common feature in cycling. It was used an innovative ceramic print technique as it is the ideal material for reducing friction on hard surfaces, yet is highly flexible during riding and offers aerodynamic advantages by disrupting airflow and minimising drag. Designed for training performance, the jersey is lightweight and constructed from breathable four-way stretch fabric.

Features
Full-length YKK zipper for extra flexibility.
Three rear Pockets plus mobile phone Pocket.
UV resistant material.
Reflective logo on sleeve ending and back Pocket for enhanced visibility.

Technologies
AVIP - Attenzione, Visibilità, Interazione, Protezione
Avip is a vision and concept, which has been created by collaborating with some of the best minds in science, health and technology to redefine the future of road bike safety and performance. Products developed to support attention, visibility, interaction and protection - including the finest and most uncompromising cycling clothing, materials, making accessories and functional details for efficacy, without sacrificing safety.
YKK Zipper
The right balance between elegance and colour, strength and endurance. YKK Nylon coil zip fit the most difficult fabrics and delicate applications in footwear and sportswear.
MEN
S
M
L
XL
XXL

A

Chest (cm)
94
99
104
110
116

B

Waist (cm)
83
88
93
99
105
For the correct garment treatment, please follow the manufacturer's instructions.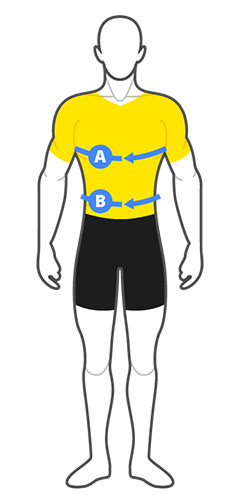 To be able to write a review you need to be logged in
Are you not registered on LordGun?
What are you waiting for, Sign up Now
Everyday we do our best to guarantee our customers:
Fast shipments
Product Warranty
After sales service
Competitive prices
Register
To ask a question to other users you need to be logged in.
Are you not registered on LordGun?
What are you waiting for, Sign up Now
Everyday we do our best to guarantee our customers:
Fast shipments
Product Warranty
After sales service
Competitive prices
Register